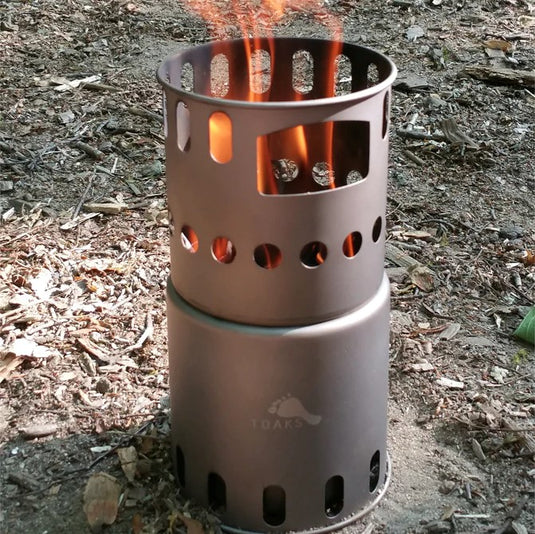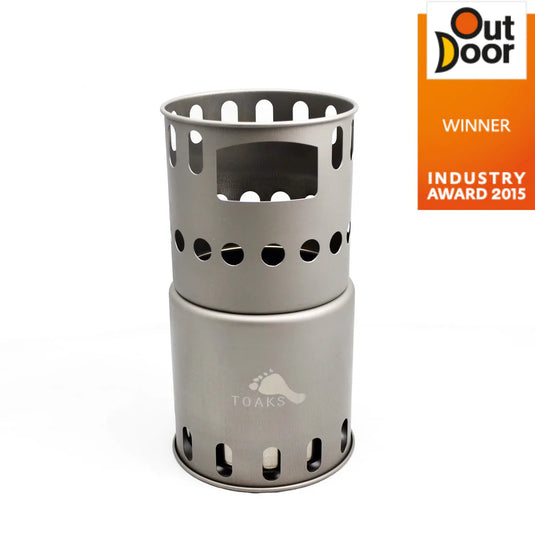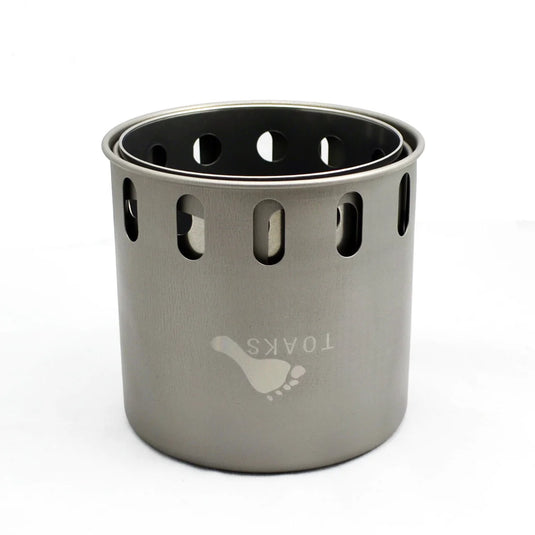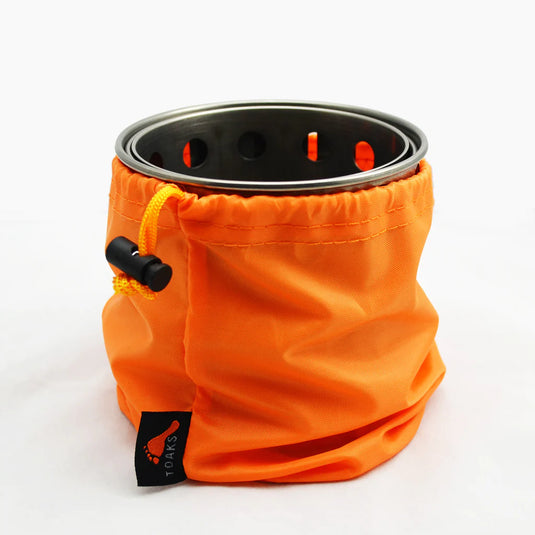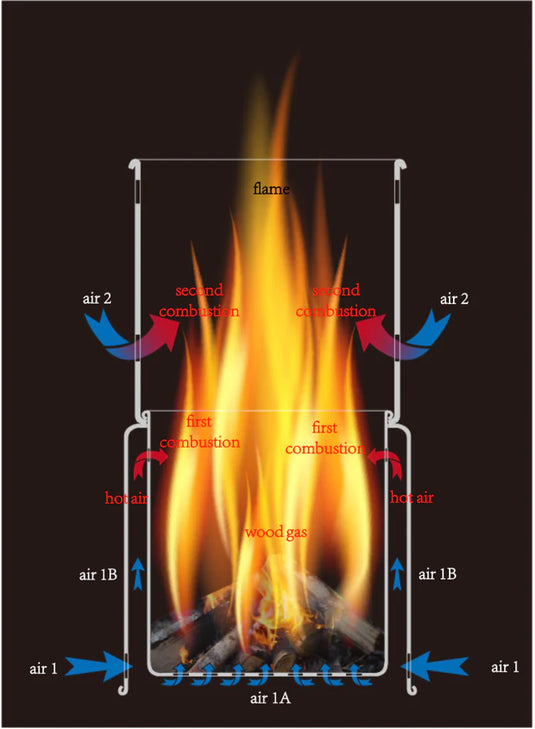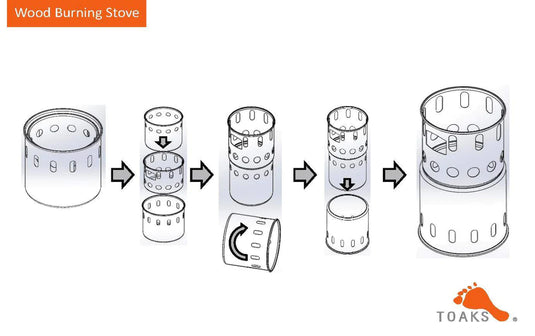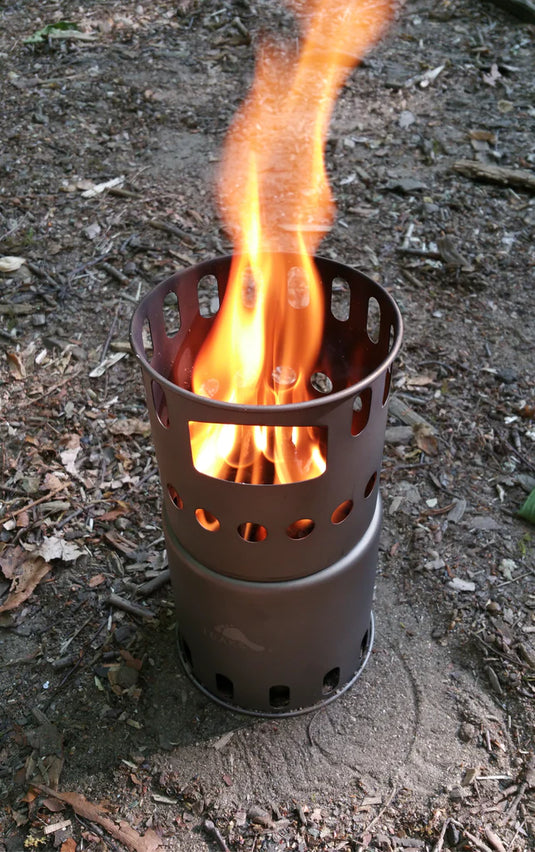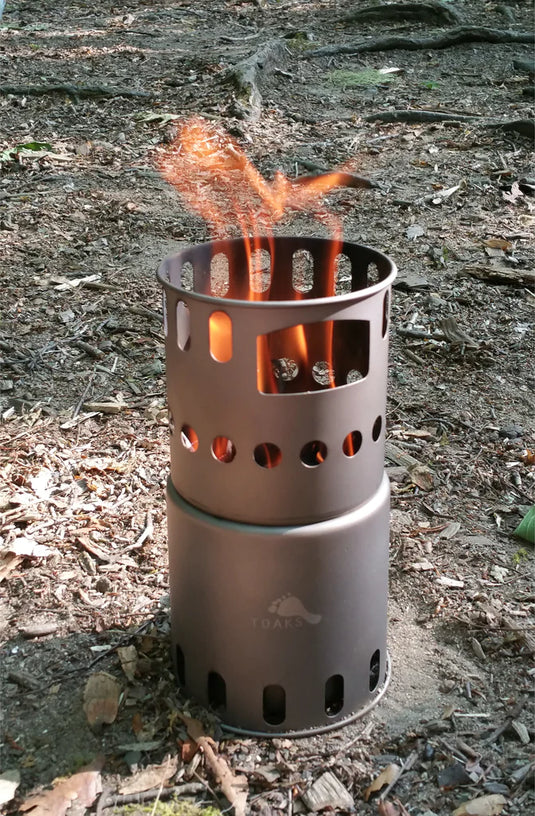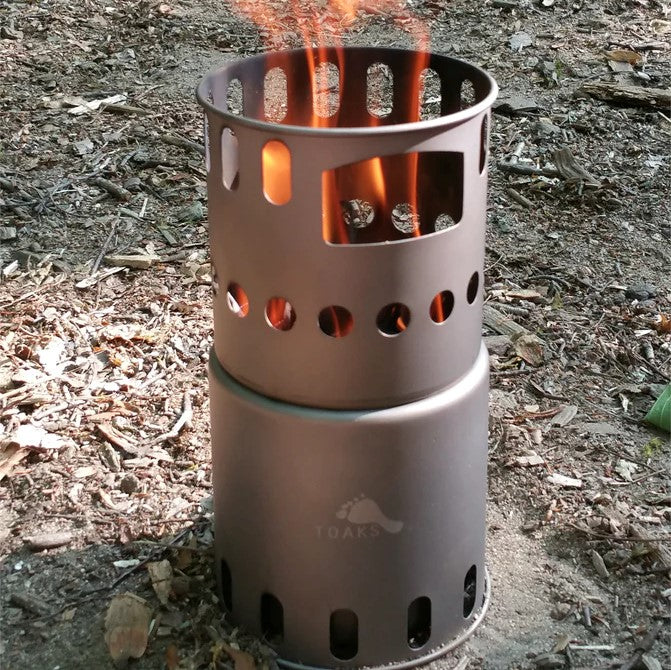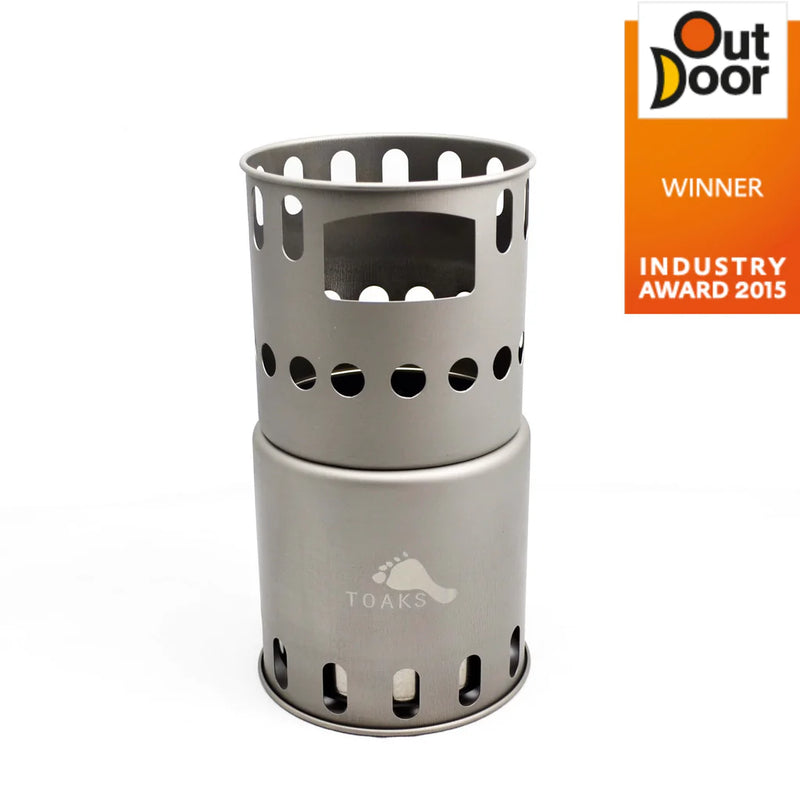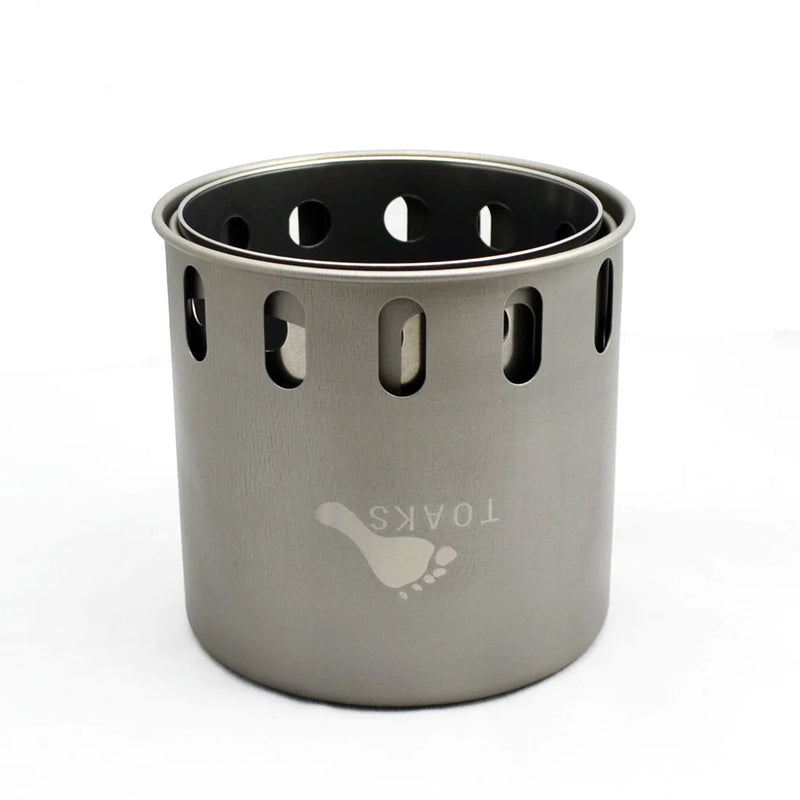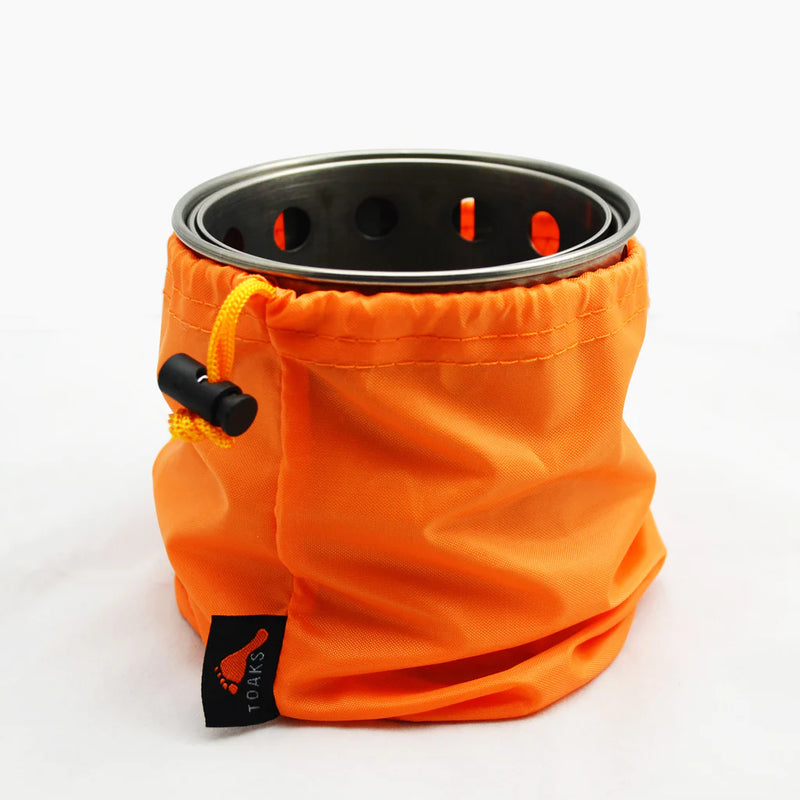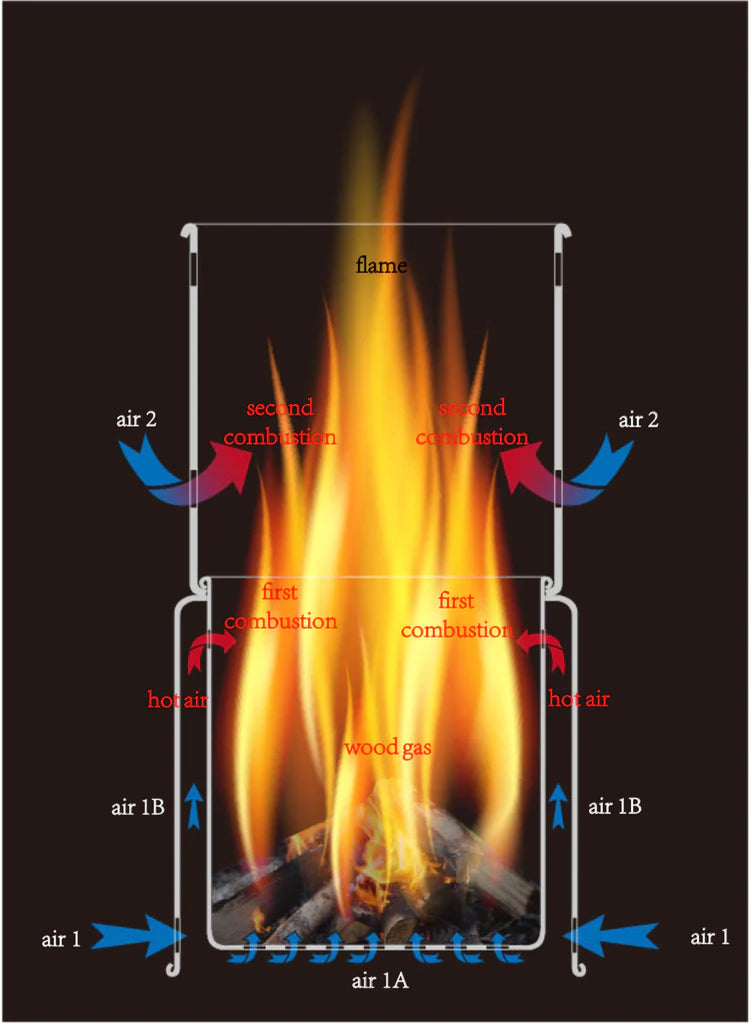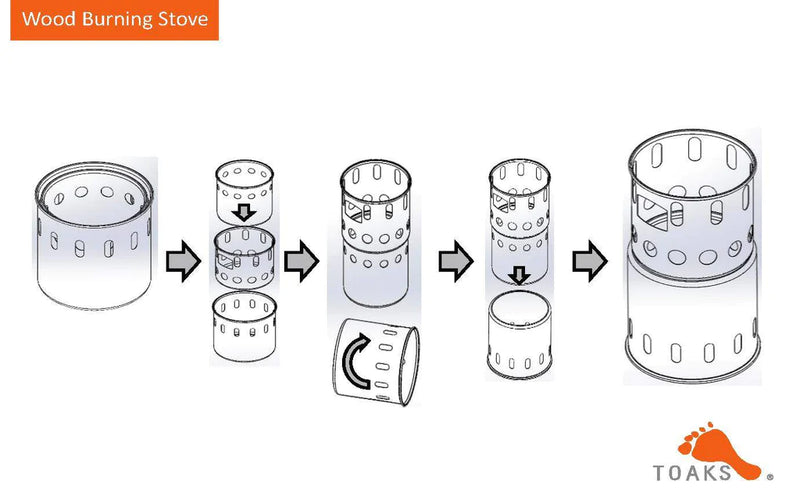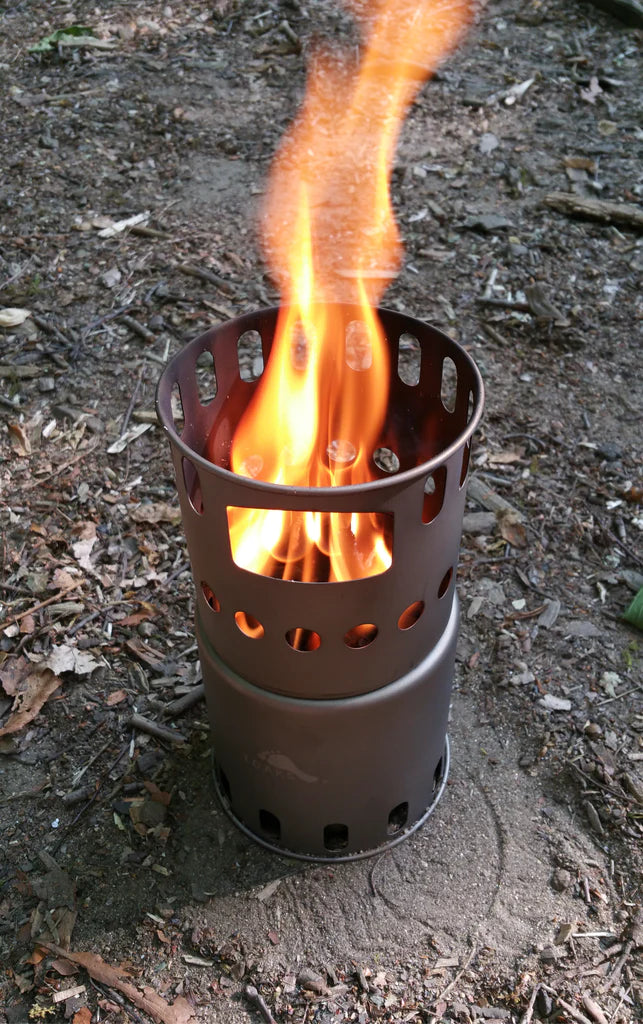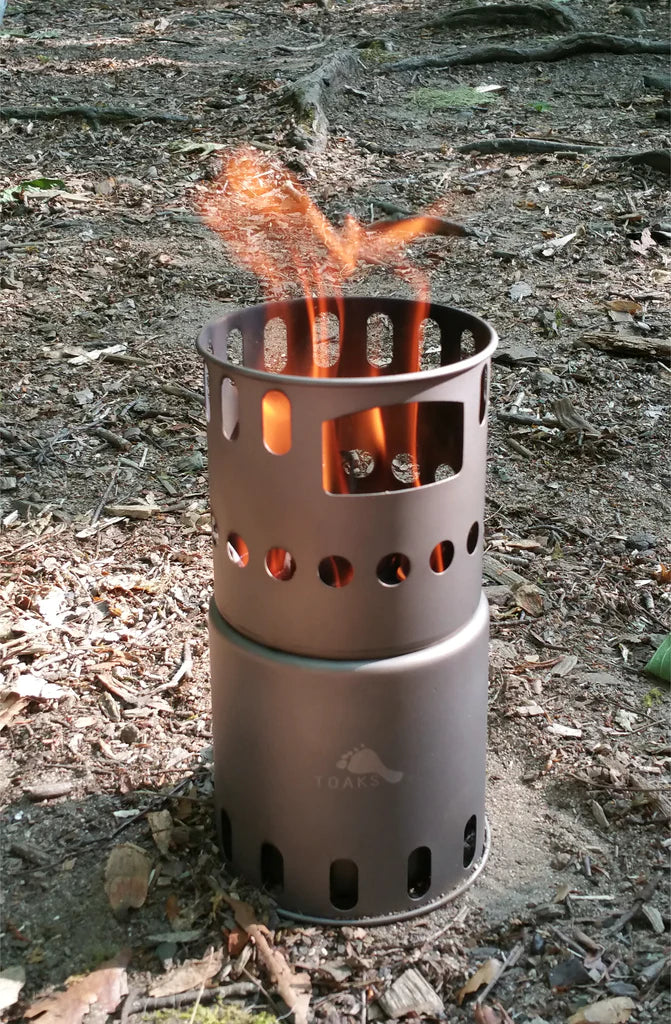 Description:
Award winner at 2015 Outdoor Friedrichshafen, Germany for its ultra-high efficiency, light/compact and easy to light the fire, our wood burning stove reaches a class of its own. Our stove is simply three stacking pieces of titanium, which lock into place when assembled as shown. Its system of vents burns not just the wood, but the wood gas in the stove with 2nd and 3rd combustions. This helps your stove find more fuel in less wood, burn cleaner, and begin burning far more easily. Please see video demo.
 
We include, for your stove's easy storage, a highly durable nylon stuff sack. To complete your cooking set, pack your stove into our 1100ml or 1600ml pot. Our 375 or 450ml cups can nest within this stove set.
Mechanism:
1. This wood stove's high efficiency is achieved due to the wood gasification plus the multi-combustions mechanism.
2. The mechanism diagram shows the optimized air intake based on the air/heat flow calculation.
3. There are 2 air intakes ("air 1" and "air 2" as shown) from outside. "air 1" is divided into 2 parts: "air 1A" enters via the bottom holes into the stove; "air 1B" is heated between the double walls, enters into the stove via the top holes on the internal cylinder. "air 2" is the air intake from the side holes of the top cylinder.
4. When the wood is ignited and got heated, the wood gas releases from the wood due to the pyrolysis process. Emitted from the wood at the bottom of the internal cylinder, the wood gas mixes with "air 1A", rises up and mixes with the hot air from "air 1B" and burns. This is the first combustion.
5. The wood gas cannot burn completely at the first combustion. It continues to rise, mixed with "air 2" and burns. This is the second combustion. Then the remaining wood gas continues to rise and burn with air supplied from the top of the stove.
6. At the end, the remain of the wood is fine white powder, which means a complete combustion.
Usage:
For the best performance of this stove, it is key to burn the wood gas instead of wood since wood gas has much higher burning value. Generaly we suggest:
1. Pack vertically-oriented sticks in the stove for the best space utilization.
2. The space between the sticks is always sufficient for air flow even if the wood is packed tightly
3. The more the wood sticks packed in the stove, the longer time it burns.
4. Important: it is recommended for the wood sticks to be below the top side holes of the bottom internal cylinder; those holes are for the hot air (air 1B) to enter and mix with the wood gas so that they should be left open.
5. If more wood needed, they can be added through the top small window. Please try not *keep on* adding wood while the stove is burning.
Product Details:
Material: 
Titanium (no coating)

Weight:
7.9 oz (225g)
Dimensions:
Packed: 4 1/8" (D) x 4 1/8" (H) (105mm x 105mm)
Assembled: 4 1/8" (D) x 8" (H) (105mm x 205mm)
Burning chamber (inner lower part): 3 3/4" (95mm) (D) x 4" (100mm) (H)
Assembly:
Please see the picture.
Origin:
Designed in USA manufactured in China