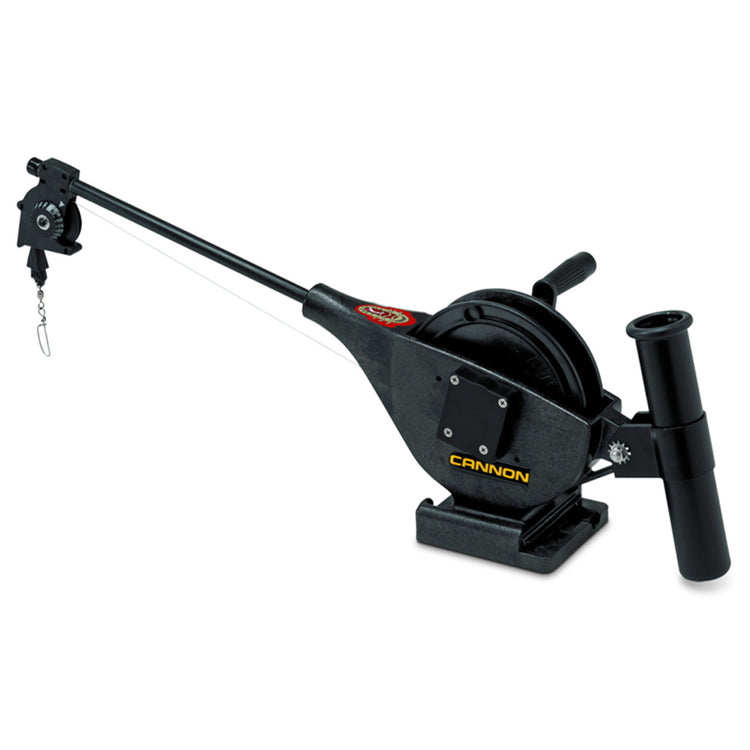 What is a downrigger in fishing?
A downrigger is a specialized fishing device used to precisely control the depth at which fishing lures or bait are presented in the water. It is commonly used in trolling, a fishing technique where a boat is driven slowly through the water with lines trailing behind to attract and catch fish.
The main components of a downrigger typically include:
Boom: A horizontal arm that extends out over the water from the side of the boat. The fishing line or cable is attached to the end of the boom.

Cable: A strong and durable cable or line that is wound on a spool and attached to a weight, known as a downrigger ball.

Downrigger Ball: A heavy weight that is attached to the end of the cable. The weight helps to sink the fishing line and bait to the desired depth.

Depth Counter: A mechanism that measures and displays the amount of cable deployed, allowing the angler to accurately set and maintain the desired fishing depth.
To use a downrigger, an angler sets the desired fishing depth on the depth counter and releases the fishing line with bait or lures attached. The weight (downrigger ball) sinks to the chosen depth, while the fishing line remains taut. This technique allows anglers to target specific depths where fish are known to be feeding, increasing the chances of a successful catch.
Downriggers are especially useful for fishing in deep waters, where it can be challenging to accurately control the depth of your bait or lures using traditional methods. They are popular among both recreational and professional anglers and are commonly used for catching a variety of fish species, including salmon, trout, walleye, and more.
Discover a superior selection of top-quality downriggers designed to enhance your fishing experience. Explore our comprehensive collection of precision-engineered downriggers, built to provide unmatched depth control and bait presentation. Whether you're a seasoned angler or a fishing enthusiast, our range offers innovative features, durable construction, and easy-to-use designs. Elevate your fishing success with our downriggers products collection, your ultimate resource for achieving optimal depths and reeling in the catch of a lifetime. Upgrade your fishing arsenal today and enjoy a more rewarding and productive day on the water.
Use left/right arrows to navigate the slideshow or swipe left/right if using a mobile device