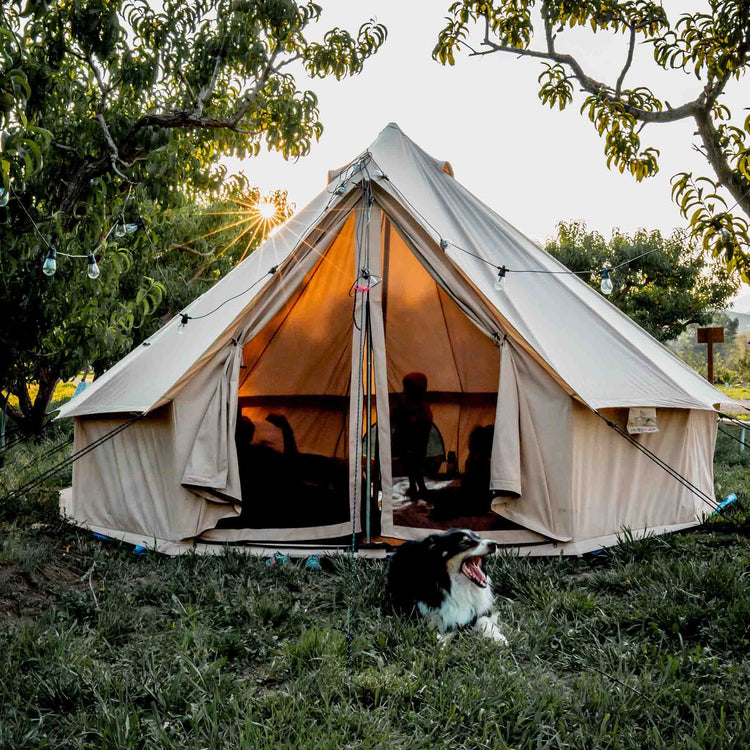 BENEFITS OF BELL TENTS
The great thing about bell tents is the many perks they offer, over other kinds of canvas tents.
Multipurpose: Bell tents are versatile in that they can be used for a variety of applications. You can use bell tents for camping in parks or even for backyard camping. Bell tent glamping is also extremely common and you can set up your own bell tent for glamping, or find resorts that offer bell tent glamping.

Setup time: On average, especially after your first time, a bell tent takes 10 minutes or less to set up. Since we provide all the components you need, it's that much easier to get going.

Stove Jack Compatible: Both the Regatta Bell Tent and Avalon Bell Tent have 5" and 6" cut-outs for a stove jack, so you can use your bell tent even if it gets colder, to a large extent. If possible, you should try and find a canvas tent with stove jack built in, rather than have to make your own or pay extra for one.

Storage: Both types of canvas bell tents come with their own duffel bag for storage, so you can easily put them away when you're back from your trip.
Use left/right arrows to navigate the slideshow or swipe left/right if using a mobile device