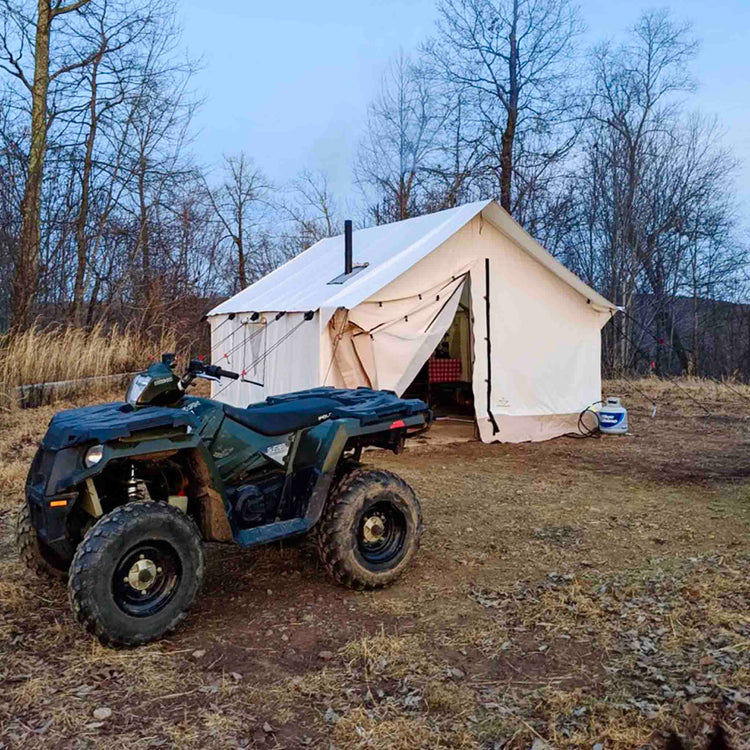 We offer a Wall tents that larger and more durable than traditional camping tents. It is designed to provide comfortable shelter for extended camping trips, hunting expeditions, or other outdoor adventures.

By choosing a Wall tent you get:
Spacious interior: Wall tents are typically larger than traditional camping tents, providing ample space for multiple occupants, gear, and furniture.

Durable construction: Wall tents are made from heavy-duty materials such as canvas, making them more durable and able to withstand harsh weather conditions.

Customizable design: Wall tents come with customizable features such as windows, doors, and stove jacks, allowing for greater flexibility and comfort.

Easy setup: Wall tents set up relatively quickly, even by those with minimal camping experience.

Comfortable camping: Wall tents provide a more comfortable camping experience than traditional camping tents, with the option of adding amenities such as wood-burning stoves, cots, and tables.

Versatility: Wall tents can be used in a variety of outdoor settings, including camping, hunting, and glamping. They can also be used for backyard gatherings or as temporary housing for disaster relief efforts.
Use left/right arrows to navigate the slideshow or swipe left/right if using a mobile device