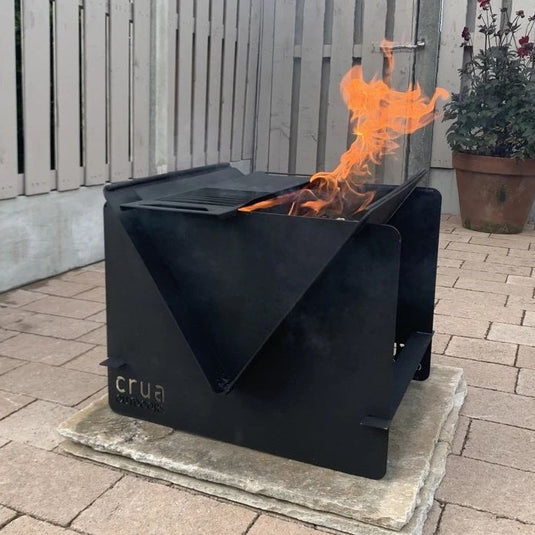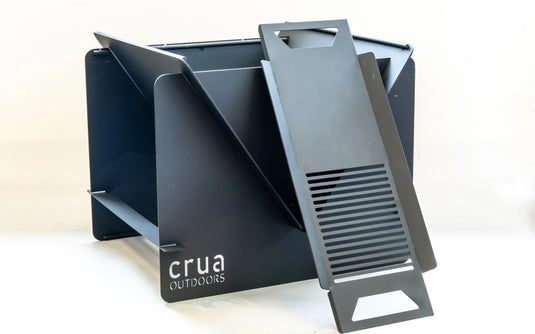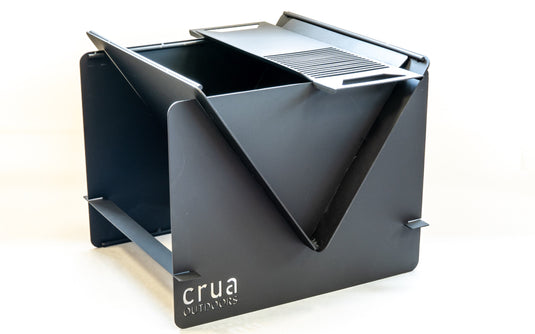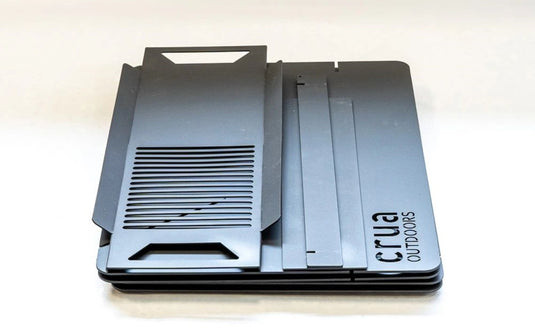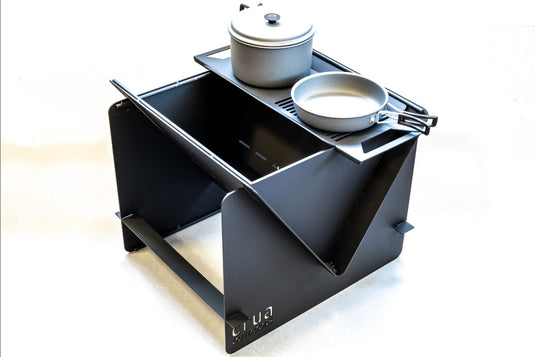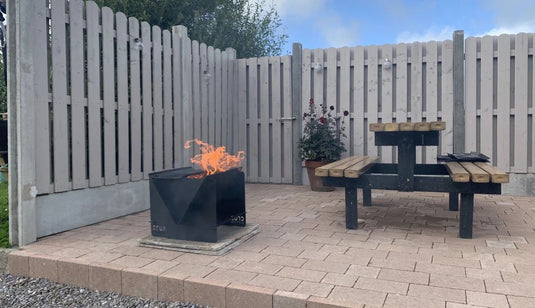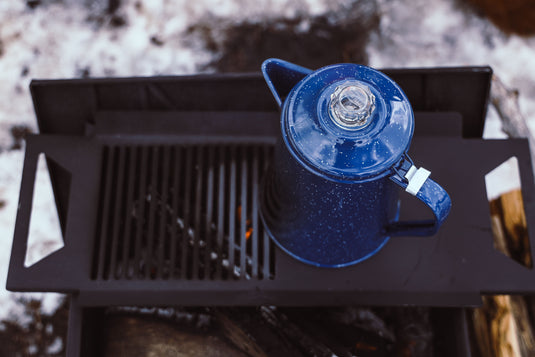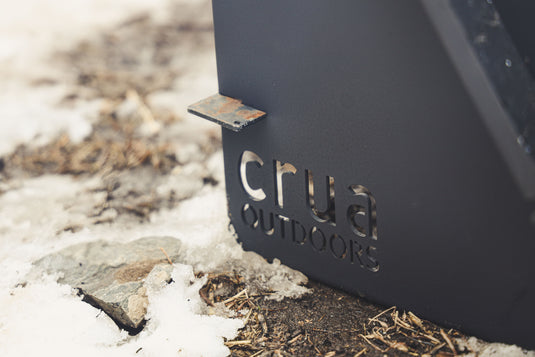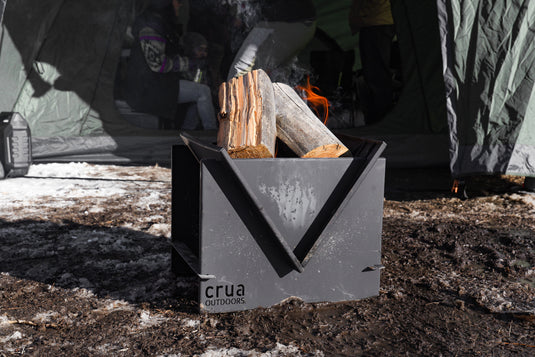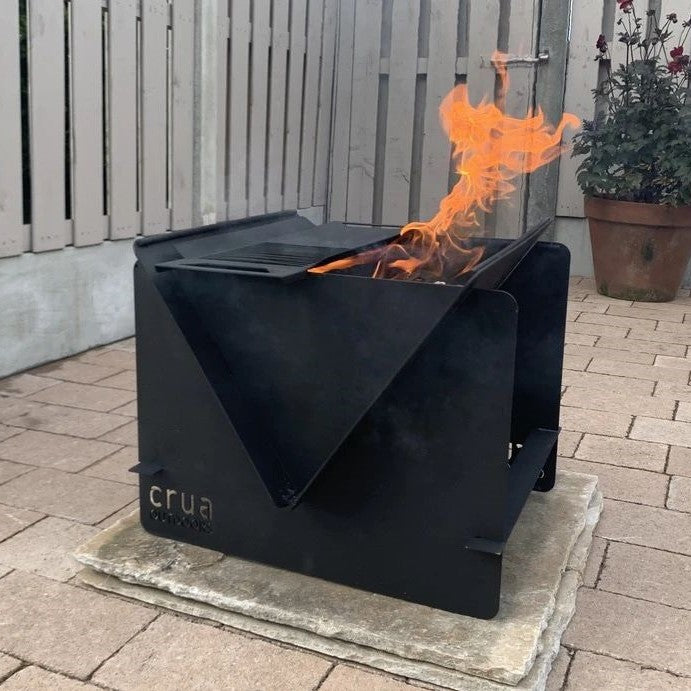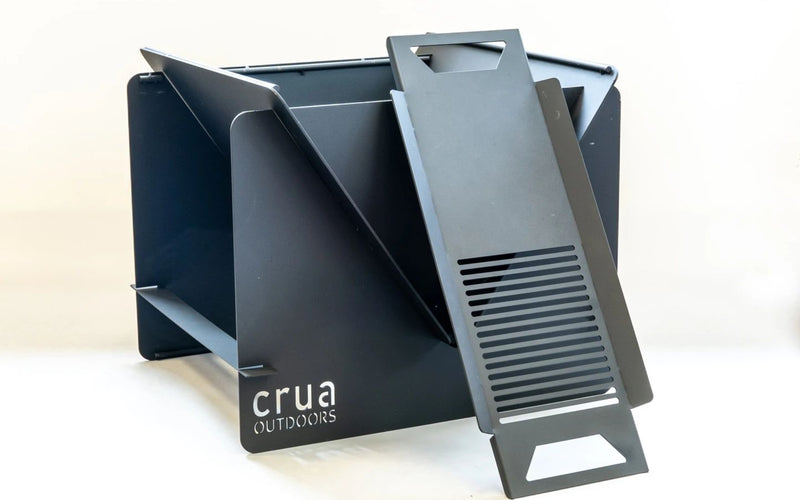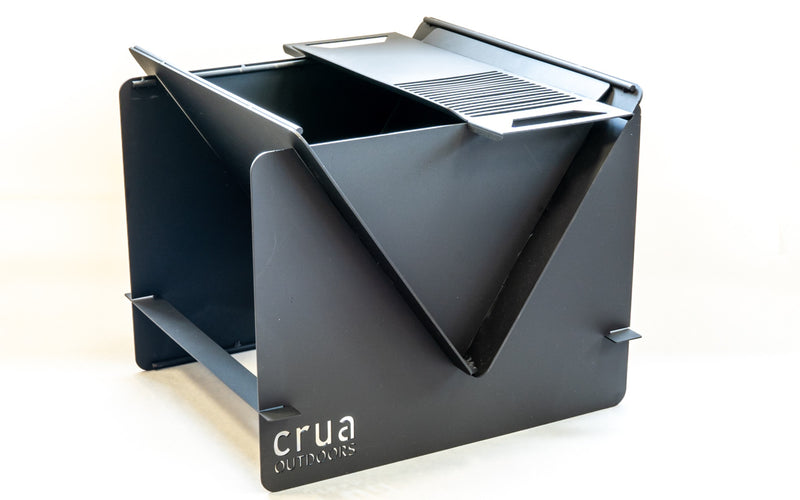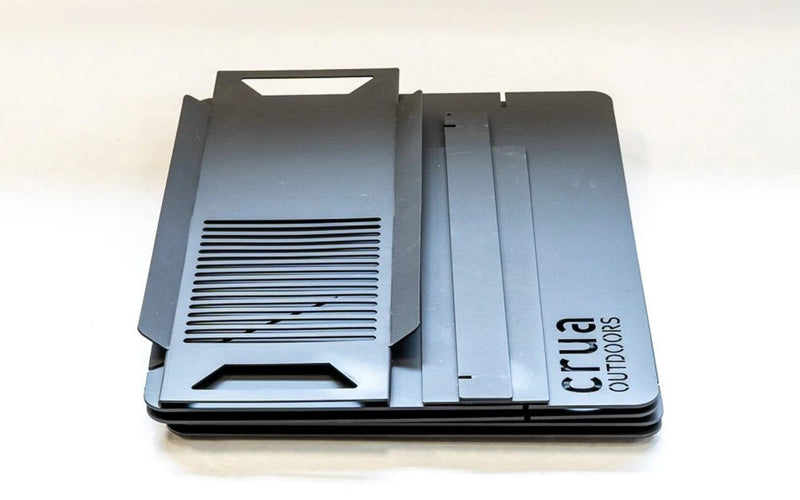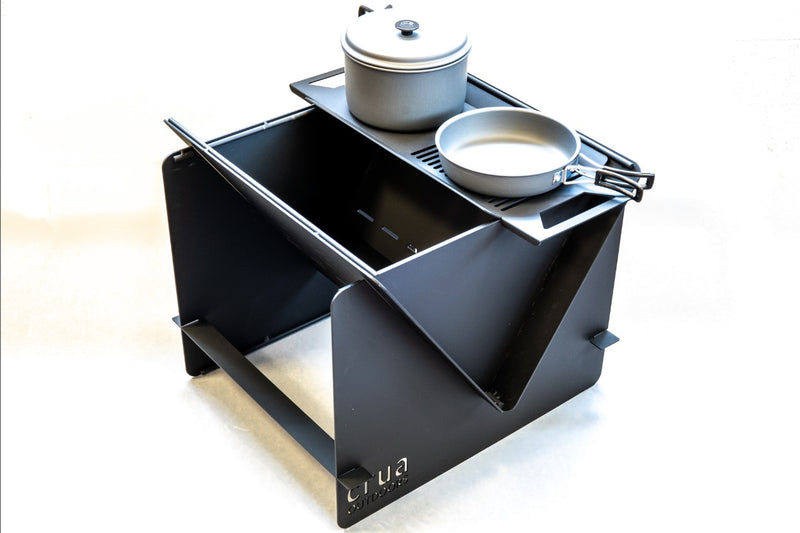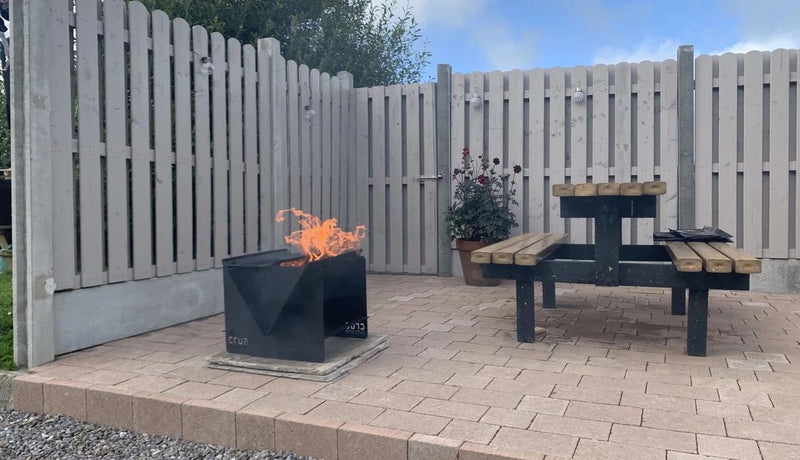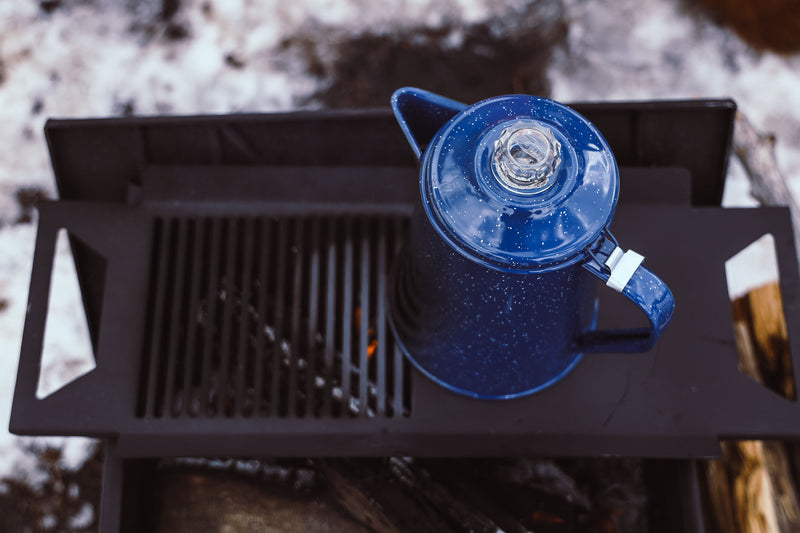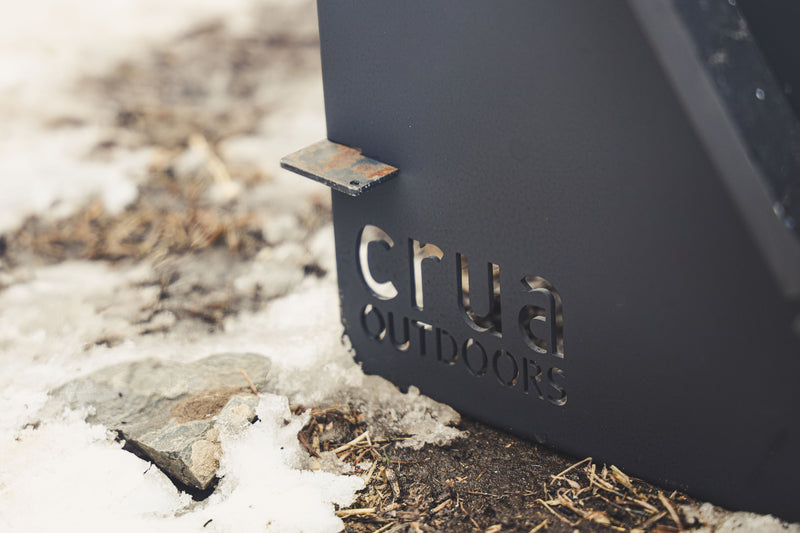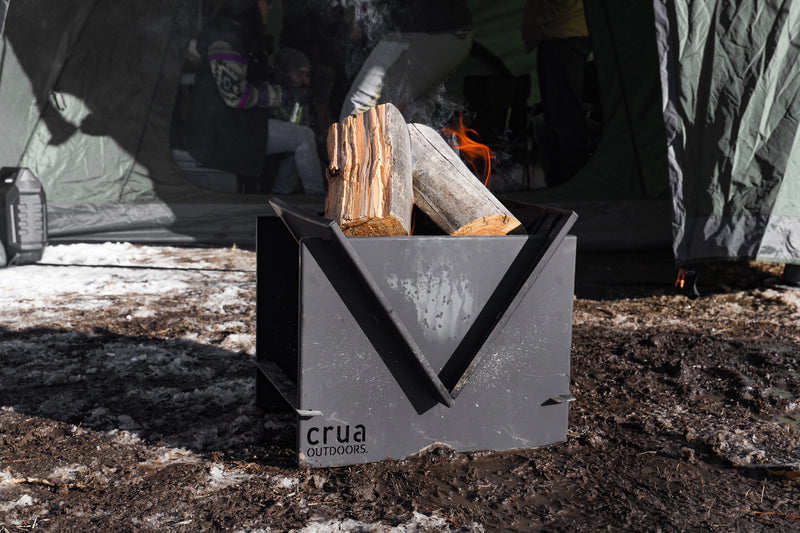 Product details:
Description:
Made with solid steel.

There isn't a person in the world that doesn't like gazing into a fire while camping. The problem is, fires can quickly become out of control. But not with the Crua firepit; we aim to leave no mess behind. 

We created the firepit to help minimise the impact on nature by containing your fire safely. We use a reliable stainless steel design to ensure the fire stays under control at all times.

The flat-pack design makes your life easier when transporting the firepit to your camping location. What makes this firepit unique is the slot together design; you don't need any tools or special screws to erect the pit.

We understand that cooking over a campfire is a difficult task, which we designed the firepit with that in mind. It comes with a flat panel at the top; big enough to hold two small pans of your choosing.

It even features grill-like slots so you can get the BBQ feeling running through your food. 

Whether you're looking to contain a fire for your next camping trip or your backyard, this firepit offers you everything you need to get cooking.
Weight: 55lbs/25kg 
Length:  20in/50.8cm 
Width: 15.9in/40.6cm 
Height: 18in/45.7cm 
Material: Alloy Steel 
Assembly Required: Yes
FAQs:
1. What materials is the firepit made from?
The Crua Firepit is among the toughest on the market. It's made mostly with 3mm steel plates, reinforced at the edges. The smaller base plate and the grill/hotplate are 2mm. Like all Crua products - it's built to last.
2. What weight is it? 
The net weight is 25Kgs or 55lbs.
3. Is it easy to carry and set-up?
Yes! It can be set up in a minute, and we include a carry bag to make it simple to transport. There are only 4 main plates, and they simply slot into each other.
4. What are the dimensions when set-up?
The external dimensions are 40.6cm (15.9 inches) wide X 50.8cm (20 inches) long X 41cm (18 inches) high, with 10cm clearance between the bottom of the firebox and the ground.
5. Is the grill/hotplate included?
Yes. Everything is included as standard - no hidden extras.
Pots and pans are not included
6. Are these in production yet?
Yes, these Firepits have been thoroughly tested, and are already in production.
7. Is it easy to 'maintain'?
Like all steel products, this Firepit should be looked after to extend lifetime. Although it is powder-coated, some easy steps should be taken to look after it. Please note that you will observe some discoloration of the plates after use. Maintenance guidelines will be included with the Crua Firepit. 
8. What can you burn?
We suggest burning wood or BBQ charcoals/briquettes only. And only burning in a suitable area, in a responsible manner.
9. Will the various plates Warp?
As anyone who has worked with steel knows, upon heating, steel parts change volume while they change their crystal structure. This in turn can lead to dimensional distortion or slight warping. Our design and thorough testing have minimized this through folding and reinforcements. But there will inevitably be slight distortions in all firepits, including ours.